Check out our calendar for a list of upcoming events!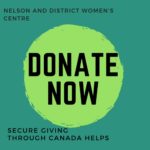 As the oldest women's centre in rural Canada, the Nelson and District Women's Centre has served a variety of needs in the community over the years. From promoting women in the trades, to social enterprise initiatives, the Women's Centre strives to meet the needs of community members. At the moment, we offer the following projects:
Read back issues of our newsletter.

"Spending time at the Women's Centre and participating in the textile project was of major importance in my life.  I had been feeling isolated and alone as a single-parent of a teenager and on the verge of suicide.  The emotional support I received, as well as professional development from working with other women in the sewing project was invaluable.  I have reclaimed my personal strength and power…allowing me to obtain contract sewing work…The Women's Centre changed my life, for which I will never forget."